Desert Treasure II
A Desert Treasure II egy 20 vonalas és 5 tárcsás nyerőgép, ahol azonos szimbólumok forgatása a cél, a nyerővonalak valamelyikére. Minél jobb kombinációt sikerül elérni, annál nagyobb lehet a nyeremény! A nyerő szimbólumok mellett speciálisak is a találhatóak a tárcsákon, melyekkel ingyenes pörgetéseket és extra nyereményt szerezhetünk!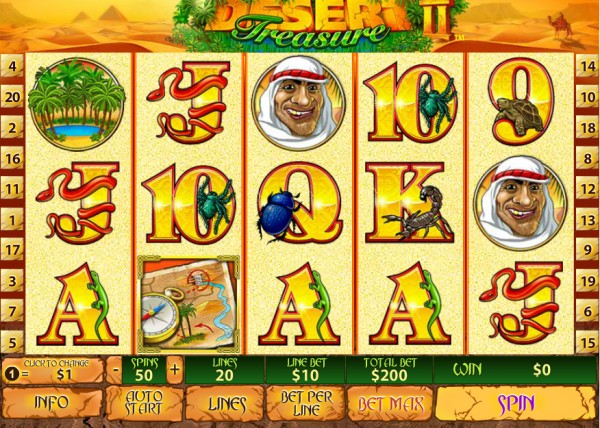 Játék menete
A Lines mezőnél a plusz/mínusz gombokkal állítjuk be a nyerővonalak számát, mely tehát 1-től 20-ig változtatható. Mellette a Bet per line a nyerővonalakra feltett pénzt jelenti. A Bet Maxra kattintva maximális téttel elindul a játék és fontos megjegyezni, hogy automatikusan, kérdés nélkül! Amennyiben megvagyunk a tét beállításával és nem használtuk a Bet Maxot, akkor a Spinre klikkelve indulhat a pörgetés. Az átlagos szimbólumokból három egyformára van szükség, míg a speciálisakból már kettő is elegendő az extra nyereményekhez.
Speciális szimbólumok
Ha a balszélső tárcsáktól indulva legalább 3 bónusz szimbólum (azaz térkép iránytűvel) szerepel egymás után egy aktív vonalon, akkor be lehet kerülni a bónuszjátékba. Ezután annyi nyeremény választható, ahány bónusz szimbólum volt a tárcsákon. A szórás ennél a játéknál egy fekete hajú hölgy, akiből legalább hármat kiforgatva, 15 ingyenes pörgetés és extra szorzó is szerezhető. Harmadik speciális szimbólum, a Wild feliratú kígyó, ami minden más alakzatot helyettesít, kivéve speciális társait.
Kifizetési táblázat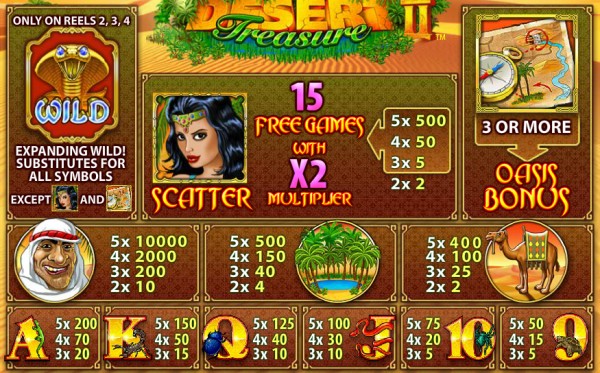 ---
A következő kaszinóknál elérhető a Desert Treasure II