The Greatest Train Robbery
Vidám hangulatú, western stílust árasztó nyerőgéppel van dolgunk a The Greatest Train Robbery esetében. Az arany expressz kirablása közben az a célunk, hogy egyforma szimbólumokat forgassunk ki a nyerővonalak valamelyikére. Ha ez megtörténik, akkor a kifizetési táblázat szerint alakul a nyeremény!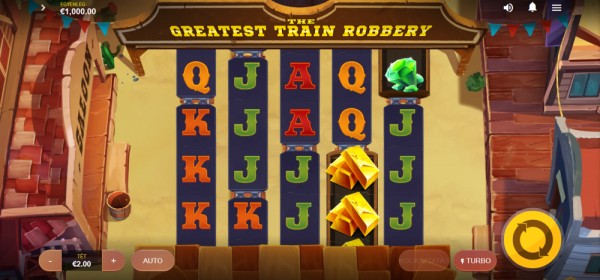 Játék menete
A tét részen tudjuk meghatározni, hogy egyetlen pörgetés során mennyi pénzt kockáztatunk. A plusz és mínusz gombok segítségével eldönthetjük az összeg nagyságát. Ezt követően a játék a sárga környíllal kezdhető meg. Van automata mód, aminél előre meghatározott számú forgatás megy le, az aktív részvételünk nélkül. Nagy segítség ez a funkció, ha épp bónuszt próbálunk kipörgetni.
Bónusz lehetőség
Három bónusz szimbólumot kell kipörgetni a tárcsákon, és előjönnek a banditák. Minden egyes bónusz szimbólum felfed egy számot, amely az ingyenes pörgetések számát jelöli. Az ingyenes pörgetések során a banditák újra előkerülhetnek, bónusz ingyenes pörgetéseket adva.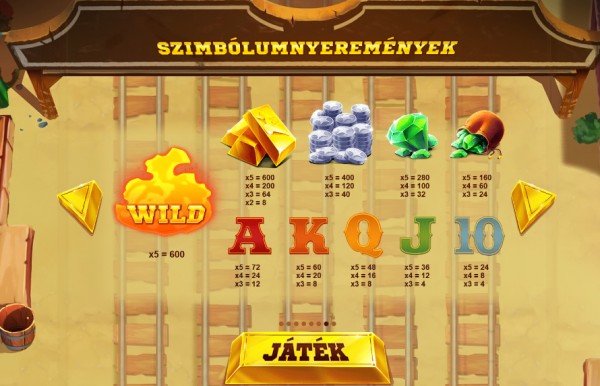 ---
A következő kaszinóknál elérhető a The Greatest Train Robbery