Book of Dead
A Book of Dead egy 5 tárcsás és 10 nyerővonalas játék, mely az egyiptomi világba viszi el a játékosait. Kincskereső kalandor, fáraók és kincsek tűnnek fel a szimbólumok között, a cél pedig a megszokott nyerőgépes vonalat képviseli, hiszen egyforma szimbólumokra van szükség a nyeremény eléréséhez. Az alap szimbólumokon felül pedig speciálisak színesítik a kifizetési táblázatot.
Játék menete
A pörgetés előtt a tétet kell beállítani, az érme értékének, és az érmék számának megadásával. Emellett azt is ki kell választani, hogy mennyi nyerővonallal kívánunk játszani. Egytől-tízig módosítható a vonalak száma, melyeket az info részen meg lehet nézni. A játék indítása a Startra kattintva történik.
Automata mód
A tárcsák forgását a Max tét is elindítja, melyre kattintva az aktuális érmeérték mellett, maximális számú érmével indul el a játék. Van lehetőség automata módra is, ennél előre beállított mennyiségű játékkör megy le, az aktív részvételünk nélkül. Bónuszt hajtóknak, vagy épp nagy tételben játszóknak mindenképp hasznos funkció.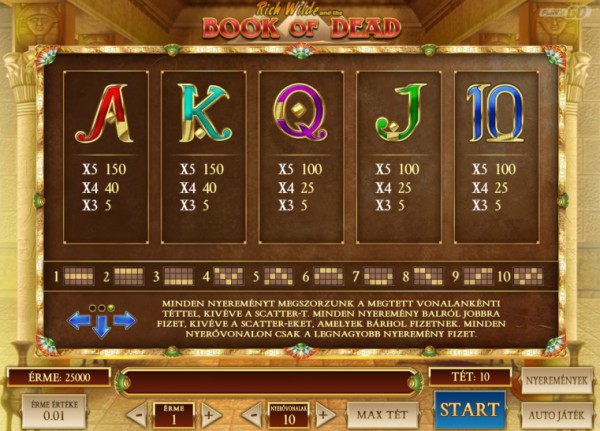 ---
A következő kaszinóknál elérhető a Book of Dead