Jack and the Beanstalk
A Jack and the Beanstalk egy 5 tárcsás és 20 nyerővonalas játékgép, melynél azonos szimbólumok kiforgatása a cél, a nyerővonalak valamelyikére, a baloldali tárcsától kezdődően. Az alap kifizetések mellett extra nyeremények is bővítik a lehetőségeinket, melyekkel például ingyenes pörgetéseket szerezhetünk!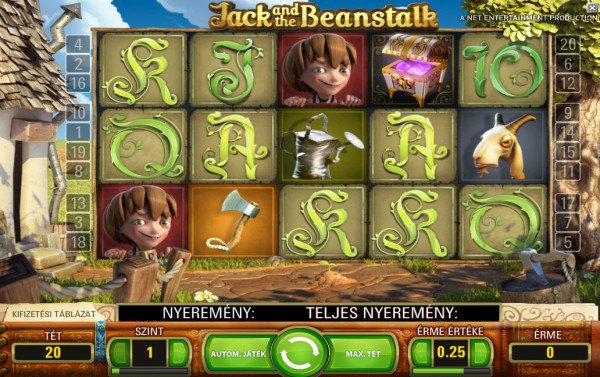 Játék menete
A nyerővonalak száma fix, tehát azokat nem tudjuk kiválasztani és módosítani. Minden sorra egy érme kerül fel, szintenként összesen 20. Amikor a tétet megadjuk, akkor szintet kell választani (1-től 10-ig), illetve az érme értékét kell meghatározni, ami maximum 1 dollár lehet. Ha például 2-es szinten 50 centes érmével játszunk, akkor a pörgetés során 20 dollárt teszünk fel. A játék indítása a környíllal történik. Az Automata játék során előre meghatározott számú kör megy le, a játékos aktív részvétele nélkül. A Max. tét az éppen aktuális érmeérték mellett, maximális tétszinten indítja el a tárcsákat.
Extra nyeremények
3 vagy több lila kincset tartalmazó láda aktivál 10 ingyenes pörgetést. Ha ilyen ládákból szintén minimum 3-at kapunk az ingyenes körök alatt, akkor további 5 kört kapunk. A három wild szimbólum az alapjátékban újrapörgetést ad, míg az ingyenes körök alatt a Walking Wildot indítja el. Az ingyenes körökben az 5-ös tárcsán megjelenő kulcsszimbólumok a Kincsvadászatot kezdik meg.
Nyerővonalak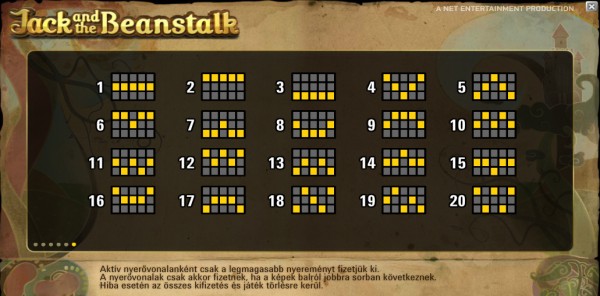 Ingyen játék
Próbáld ki a játékot ingyen, regisztráció, illetve befizetés nélkül. Amennyiben tetszik a játék, akkor kipróbálhatod valós tétért is a cikk végén található kaszinóteremnél/kaszinótermek egyikénél.
---
A következő kaszinóknál elérhető a Jack and the Beanstalk