Kingdom of the Titans
A Kingdom of the Titans egy 30 vonalas nyerőgép, 5 forgó tárcsával, melyeken ókori római karakterek jelennek meg. A játék magyar nyelvű kezelőfelülettel és infóval is rendelkezik, így könnyedén megismerhetjük a részleteket. Az átlagos szimbólumok mellett, a speciálisak révén ingyenes körökhöz lehet jutni, vagy épp extra nyereményekhez.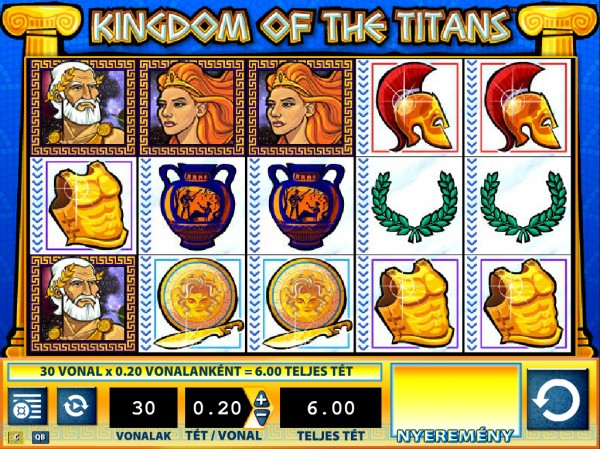 Játék menete
A pörgetés előtt általában a téteket és a nyerővonalakat kell beállítani a nyerőgépeknél. Ennél a vonalak száma fix, mindig 30 aktív. A tét beállítása a Tét/Vonalnál látható fel és le nyílakkal történik. A teljes tét az itt beállított összegnek és a 30 nyerővonalnak a szorzata lesz. Például 20 centes sortét esetén 6 dollár lesz az a pénzmennyiség, amit egy forgatás során levonnak az egyenlegünkből. A játék kezdete a környíllal történik.
Nyerősorok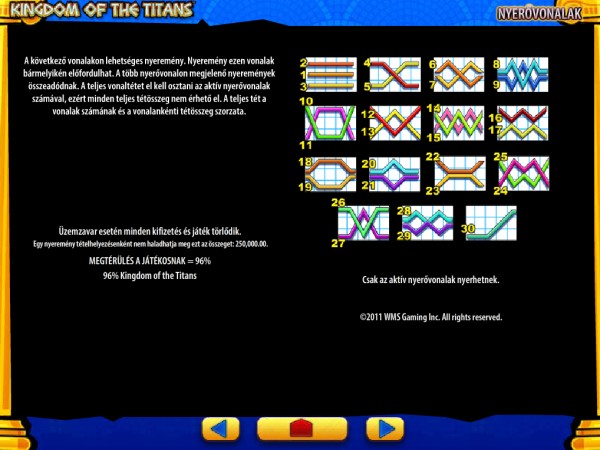 ---
A következő kaszinóknál elérhető a Kingdom of the Titans