Secrets of Christmas
Igazi ünnepi hangulat, hóesés, lágy zene! Ezekkel vár a Secrets of Christmas nyerőgép, amiben a Mikulás házához jutunk el, és az ajándékai alkotják a szimbólumok készletét. A játék célja, legalább három azonos szimbólum kiforgatása a nyerővonalak valamelyikére!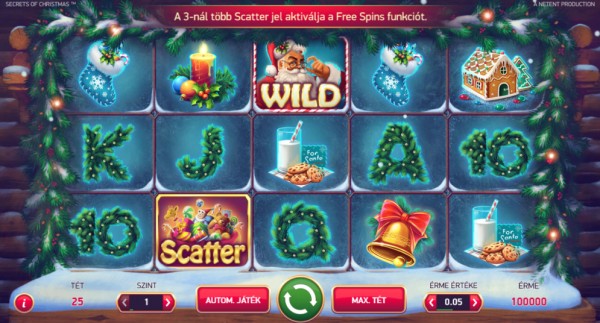 Játék menete
Összesen 10 különböző tétszintet választhatunk, és emellett az Érme értékét is meghatározhatjuk. Ezekből tevődik össze a teljes tét, amit a bal alsó sarokban jeleznek is. A játék indítása a zöld környíllal történik. Van automata mód, melyet a nagy mennyiségben pörgetők egészen biztosan kedvelni fognak. Ennél előre meghatározott számú kör megy le önmagától.
Scatter és Wild
A tárcsákon bárhol megjelenő scatter szimbólumok ingyenes, tehát tét nélküli köröket indítanak el. Ehhez legalább hármat kell kiforgatni belőlük. Emellett vannak wildok, amik minden mást helyettesítenek, és a játékban elérhetünk egy speciális mellékjátékot is, ahol ingyenesen növelhetjük a nyereményt.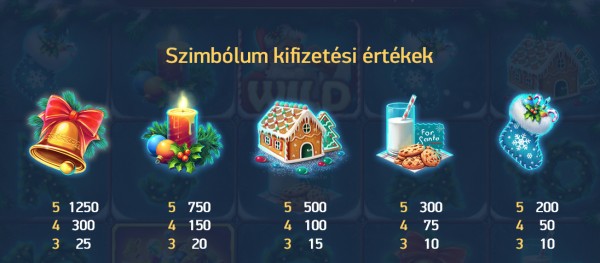 Ingyen játék
Próbáld ki a játékot ingyen, regisztráció, illetve befizetés nélkül. Amennyiben tetszik a játék, akkor kipróbálhatod valós tétért is a cikk végén található kaszinóteremnél/kaszinótermek egyikénél.
---
A következő kaszinóknál elérhető a Secrets of Christmas