Star Trek: Trouble with Tribbles
Népszerű téma a játékgépek között a Star Trek sorozat, melynek több nyerőgépet is szenteltek, így a Trouble with Trebbles-t is. A tárcsákon a híres karakterek tűnnek fel, mint Spock vagy épp Kirk kapitány. A játék célja azonos szimbólumok kiforgatása a nyerővonalak valamelyikére!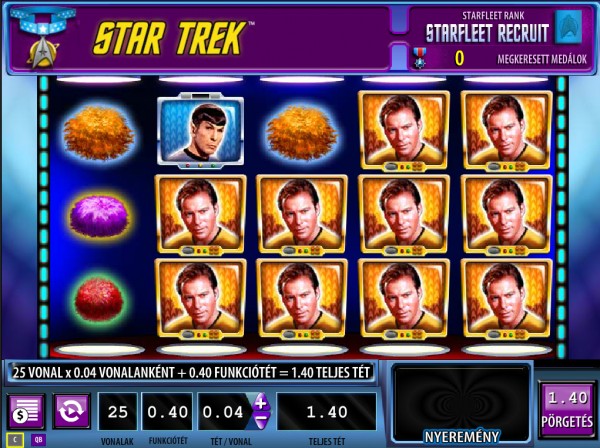 Játék menete
A vonaltétet lehet csak módosítani, viszont ezzel egész sor dolgot befolyásolunk, ugyanis a teljes tét, amit egy forgatás során levonnak, a vonaltét, funkciótét és a vonalszám szorzatából jön ki. A játék indítása a Pörget gombbal történik, amire a biztonság kedvéért felírták még egyszer a teljes tétet, amit a pörgetés során kockáztatunk.
Feature és társai
A Feature feliratú szimbólum speciális célokat lát el. Ha legalább hármat kapunk belőle, akkor elindul a Trebble Pinball. Emellett van még egy Wild is, ami szintén eltér az alap szimbólumoktól, hiszen képes minden mást helyettesíteni.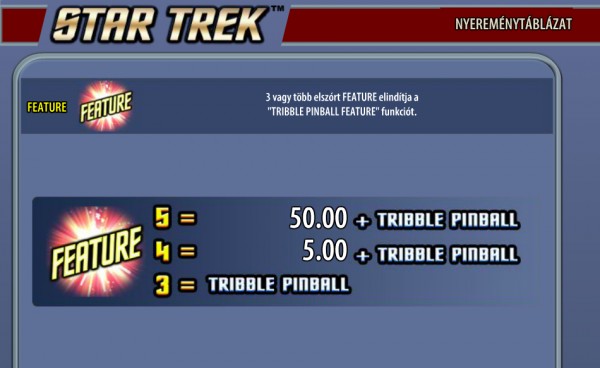 ---
A következő kaszinóknál elérhető a Star Trek: Trouble with Tribbles