Sherlock of London
Ha szereted a rejtélyeket és a nyomozást, akkor a Sherlock of London egész biztosan tetszeni fog neked! A 25 nyerővonalas játékban egyforma szimbólumokat kell kiforgatni a nyeremény eléréséhez. Sherlock nyerőgépes kalandját magyar feliratokkal láthatjuk, még az információs rész is magyar nyelven olvasható!
Játék menete
A tét beállítása nem meglepő módon, a Tét részen történik. Itt a jobbra és balra mutató nyilakkal tudunk módosítani az összegen. Ez nem a teljes tétet jelenti, azt kicsit feljebb láthatjuk. A sortétet állítjuk, és mivel 25 nyerővonal van, ezért az itt kiválasztott összeg még szorzódik 25-tel, megadva a teljes tétet, amit egyetlen forgatás során kockáztatunk. A játék indítása a tárcsák alatti környíllal történik!
Joker szimbólum
A szimbólumok között találhatunk egy jokert, amit a wild felirat jelez. Ez bármelyik szimbólumot helyettesítheti egy nyerő kombináció létrehozásához. Ingyenes pörgetést érő filler szimbólumot viszont nem tud helyettesíteni. Ha a tárcsákon egynél több joker jelenik meg, akkor ezek összekapcsolódnak, és a közéjük eső egyéb szimbólumokat is jokerré változtatják.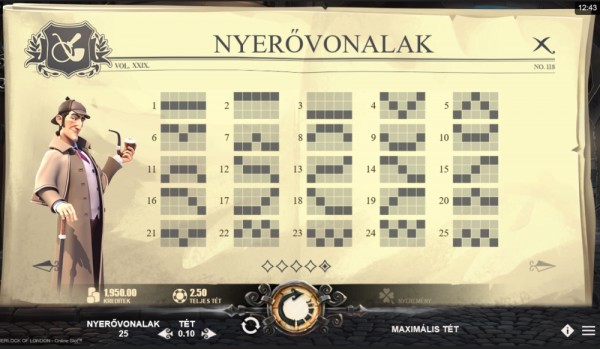 ---
A következő kaszinóknál elérhető a Sherlock of London