Erik the Red
Az Erik the Red egy 5 tárcsás 20 nyerővonalas játék, melyben azonos szimbólumok gyűjtése a cél. A nyerővonalakat meg lehet tekinteni az információs részen, ahol a játék speciális nyerési lehetőségeiről is bővebben olvashatunk. Rengeteg beállítási lehetőség van, például kikapcsolhatjuk a hangot, vagy az átkötő animációkat is.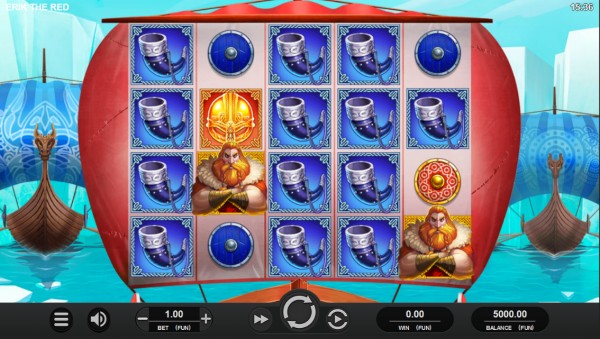 Játék menete
A tét megadása a plusz és mínusz gombokkal történik, ezt érdemes a pörgetés előtt megtenni. Az itt beállított összeget a számlánkról levonják, minden játékkör elején. A nyerővonalak száma nem módosítható, így a játék előtt más teendőnk már nincsen. Van turbó mód, aminél a tárcsák gyorsabban pörögnek, illetve automata lehetőség is elérhető, ennél előre meghatározott számú pörgetés megy le.
Scatter és wild
A tárcsákon feltűnnek speciális szimbólumok is, amik egyedi képességgel rendelkeznek. Ilyen például a scatter, ami 8 ingyenes pörgetést ad, ha legalább hármat kapunk belőle. Ha négy jelenik meg a pörgetés végére a tárcsákon, akkor egész tárcsát lefoglaló wild lehet a jutalom.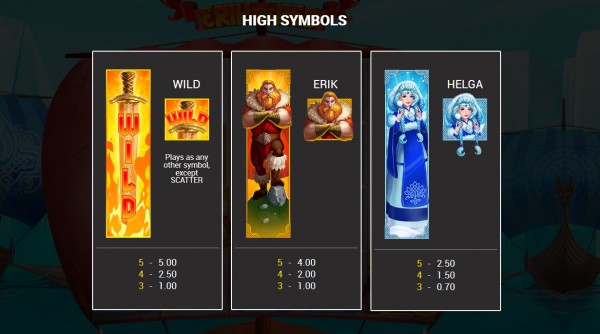 ---
A következő kaszinóknál elérhető a Erik the Red