Michael Jackson King of Pop
Valószínűleg a leghosszabb nevű online nyerőgép a Michael Jackson King of Pop, melyben a 25 nyerővonalra kell azonos szimbólumokat forgatni a kifizetés eléréséhez. Magyar nyelvű felület mellett, az információs részleg is magyar nyelven olvasható, így a játék teljes működését tanulmányozhatjuk.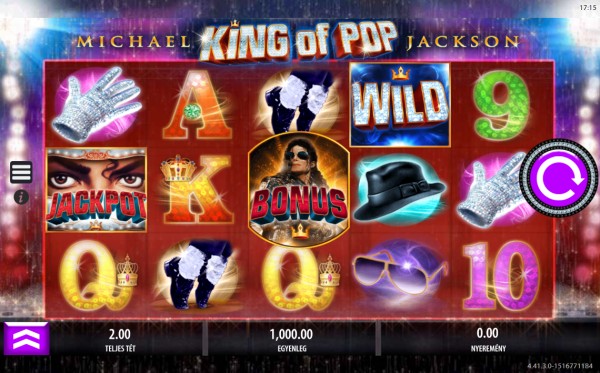 Játék menete
A tét beállításához a bal alsó sarokban található, felfelé mutató nyilakra kell kattintani. Ekkor felugrik egy menü, ahol az egyes zseton tartozik a tét beállításához. A plusz és mínusz gombokkal tudjuk módosítani a teljes tétet. A grafikon gombbal juthatunk el a kifizetési táblázathoz, ahol a nyerővonalak mellett még leírást is találunk a nyerőgép működéséről.
Moonwalk Wilds
Az alapjáték pörgetésekben 2-5 véletlenszerű Moonwalk Wilds szimbólum jelenhet meg a kettes, hármas, négyes és ötös tárcsán. A Moonwalk Wilds minden szimbólum esetében wild, tehát képes helyettesíteni őket, kivéve a bonus és jackpot jelet. Egy nyerő kombinációban megjelenő egy vagy több Moonwalk Wilds megduplázza a nyereményt.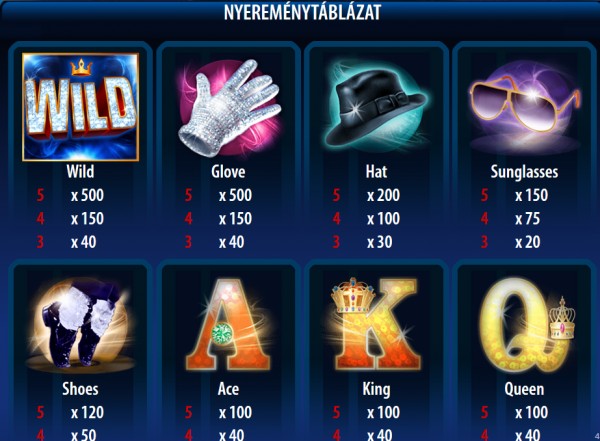 ---
A következő kaszinóknál elérhető a Michael Jackson King of Pop