Elvis the King lives
Elvis még él eszerint a nyerőgép szerint, melyben 5 tárcsát forgathatunk, és 80 nyerővonal áll rendelkezésünkre. A tárcsák nem a megszokott mennyiségű szimbólumot tartalmazzák, hiszen a baloldali kettő csak négy soros, míg a jobboldaliak hat sorosak. A játék célja, hogy azonos szimbólumokat forgassunk ki a nyerővonalak valamelyikére!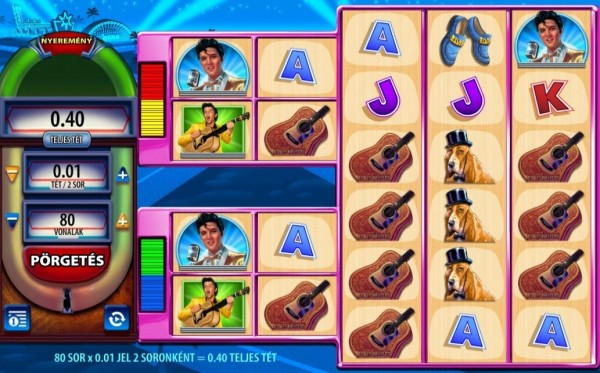 Játék menete
Tét beállításához két gombot kell használnunk: Vonalak és Tét per 2 sor. A magyar nyelvű felületnek köszönhetően ezek adják magukat. A vonalakkal aktiválhatjuk a nyerősorokat, összesen 80-at, míg a másik a sortétre vonatkozik. Minden tétre vonatkozó beállítás után következhet a pörgetés, amit egy nagy piros gombbal lehet megtenni.
Automata mód
A lusták, vagy épp a nagyban játszók kedvenc opciója, az automata mód is elérhető az Elvis the King livesben. Az ismétlésszám választása után, a tárcsák automatikusan pörögnek, a mi aktív részvételünk nélkül. Ez a funkció bármikor aktiválható, vagy épp le is állítható.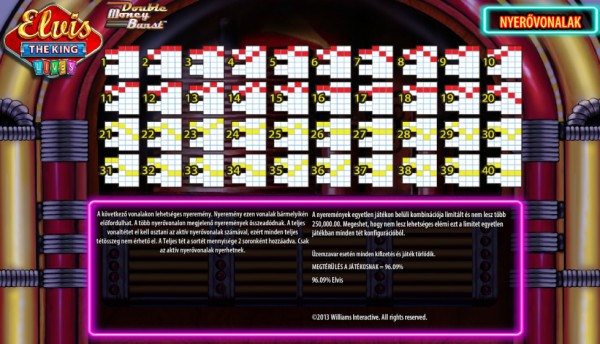 ---
A következő kaszinóknál elérhető a Elvis the King lives