Battle of the Gods
A Battle of the Gods egy 25 vonalas és 5 tárcsás nyerőgép. Megjelennek Titánok és Istenek, akik egy halálos harc résztvevői, ami még a mennyet is megrázza! A cél azonos szimbólumok kipörgetése a nyerővonalakra. Speciális alakzatok segítségével ingyenes pörgetésekhez lehet jutni. Szerencsés esetben a feltett tét 10000-szerese is elvihető, tehát érdemes kipróbálni!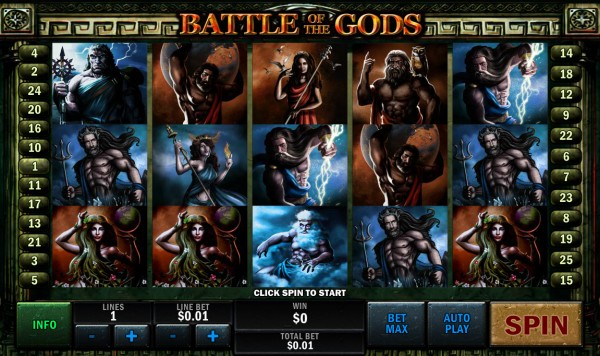 Játék menete
A Lines alatti plusz/mínusz gombokkal állítjuk be a nyerővonalak számát, mely tehát 1-től 25-ig változtatható. Mellette a Line Bet a nyerővonalakra feltett pénzt jelenti. A Bet Maxra kattintva maximális téttel elindul a játék és fontos megjegyezni, hogy automatikusan, kérdés nélkül! Amennyiben megvagyunk a tét beállításával és nem használtuk a Bet Maxot, akkor a Spinre klikkelve indulhat a pörgetés. Az átlagos szimbólumokból három egyformára van szükség, míg a speciálisakból már kettő is elegendő az extra nyereményekhez.
Nyerővonalak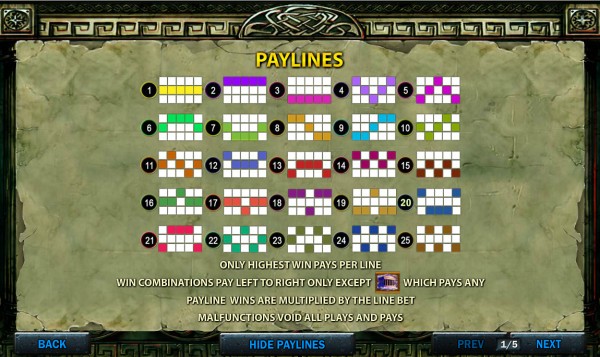 Wild és Scatter szimbólum
A wild szimbólum jokerként működik, tehát bármely más szimbólumot képes helyettesíteni, kivéve a Scattert. Ez utóbbi egy épületet jelent, melynél nem feltétel, hogy nyerővonalra pörgessünk ki belőle azonosakat, tehát a játékban bárhol megjelenhetnek. Két scatter szimbólum esetén a tét visszajár, míg három, vagy többnél ingyenes pörgetések indulnak az Istenek és Titánok játékmódban.
Kifizetési táblázat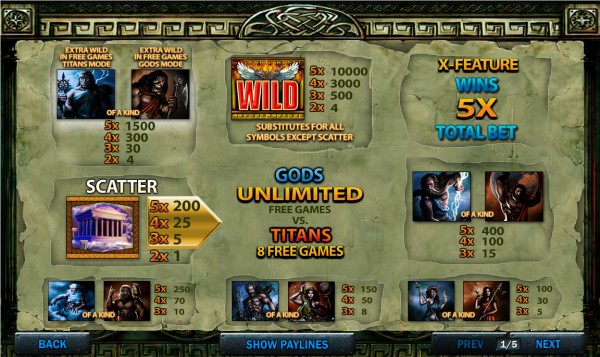 ---
A következő kaszinóknál elérhető a Battle of the Gods