Pixies of the Forest
A Pixies of the Forestben mindössze 33 érméért játszhatunk 99 nyerővonalon. Teljesen magyar nyelvű felülette van, és egyedi hangulata, köszönhetően az erdei tündérmesei világnak. A kifizetéshez azonos szimbólumokra van szükség, a baloldali tárcsától kezdődően!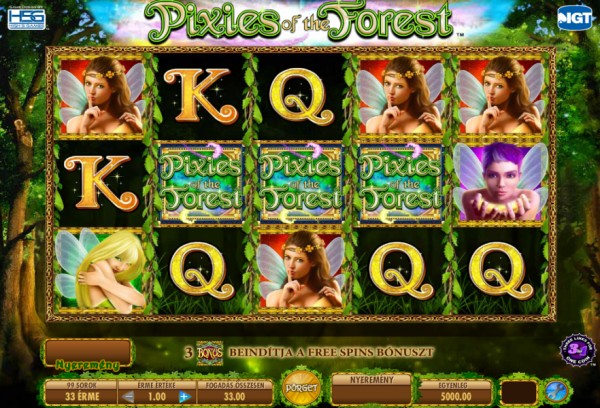 Játék menete
A készítők úgy gondolták, hogy ha már 99 nyerősort pakoltak a játékba, akkor mindig játszunk is ennyivel. Ez a szám tehát nem módosítható, mindig fixen ennyi. Az egyetlen beállítási lehetőség az Érme értéke, amivel a forgatás során feltett tétet tudjuk szabályozni. A játék indítása a Pörget gombra kattintva történik!
Free Spins bónusz
A Free Spins bónuszt úgy lehet elindítani, ha kipörgetünk egy nyerősorra három bónuszszimbólumot. Egy adott pörgetéssel csak egy bónuszt lehet elindítani. A Free Spins elindulását követően ki kell választania valamelyik bónuszszimbólumot, hogy kiderüljön a megnyert ingyenes pörgetések száma.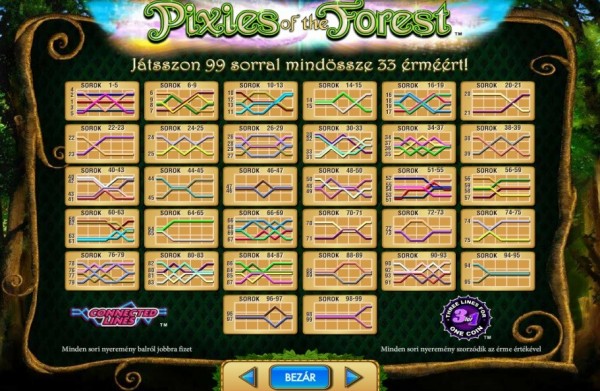 ---