Soldier of Rome
Összetett hét tárcsás játék a Soldier of Rome, melyben a cél megszokott: azonos szimbólumok gyűjtése a nyerővonalakra. A hangulat igazán római és harcos, a tárcsákon megjelenő alakzatok is ebbe a világba sorolhatóak. Magyar nyelvű súgóban olvashatunk részletesen a játékban rejlő lehetőségekről!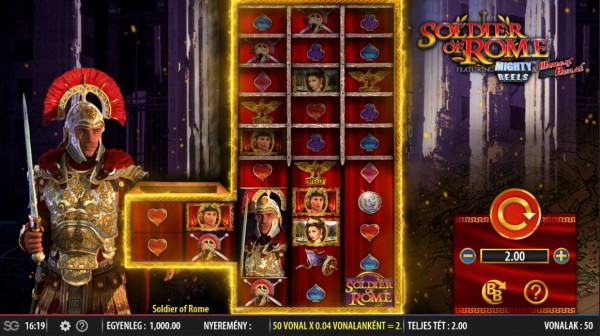 Játék menete
A játékgép 100 nyerővonalat tartalmaz, ezekre kell kifizetést érő kombinációkat pörgetni. Érdemes a tét beállításával kezdeni, amit jobb oldalon találhatunk. A plusz és mínusz gombokkal tudjuk módosítani az egy kör során kockáztatni kívánt összeget. A tárcsák pörgetése, tehát a játékkör megkezdése a környíllal történik.
Ingyenes pörgetések
Az ingyenes pörgetések aktiválásához három vagy több Soldier of Rome szimbólumra van szükség. Az ingyenes körök alatt újabb tét nélküli köröket lehet nyerni. Legfeljebb 25 ingyenes pörgetés nyerhető, amik automatikusan indulnak és értelemszerűen addig tartanak, ameddig még van hátra pörgetés.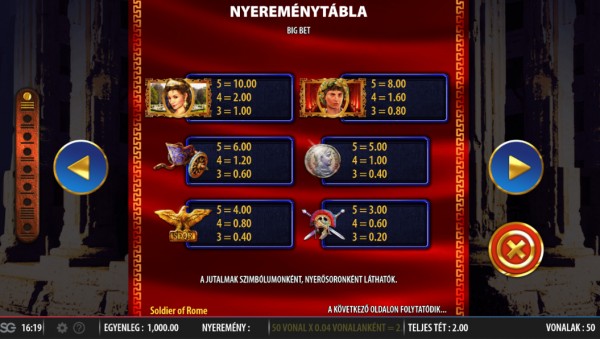 ---
A következő kaszinóknál elérhető a Soldier of Rome