Book of Gods
A Book of Godsban 243 féle módon lehet nyerni, amihez azonos szimbólumokra lesz szükség. Egyiptomi hangulat fogad minket a játékban, a tárcsákon megjelenő alakzatok is ezen világ köré csoportosulnak, vannak képzeletbeli lények és hieroglifák is! Az alap szimbólumokon felül vannak speciálisak is, melyek egyedi funkcióval bírnak!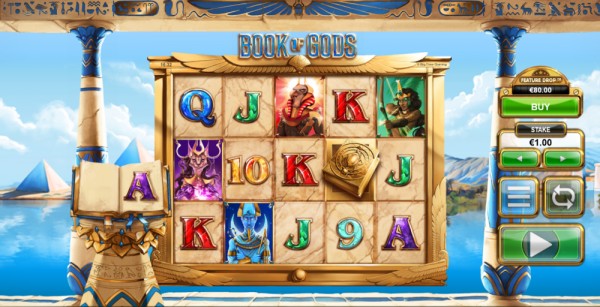 Játék menete
A tét beállítása a Stake részen történhet, a jobbra és balra mutató nyilak segítségével. Centes nagyságrendtől egészen az több tíz euróig módosíthatjuk az egy kör során kockázatott összeget. A környílra kattintva automata módot is indíthatunk, ekkor az előre beállított számú pörgetés megy le, az aktív részvételünk nélkül. A tárcsák egyszeri, tehát normál módú aktiválása a jobbra mutató zöld háromszöggel tehető meg.
Wild és scatter
A nyerőgépek megszokott szereplője a wild és scatter, két speciális szimbólum. A wild minden mást helyettesít, míg a scatter extra nyereményszorzót ad. Ebben a játékban mindkét funkciót egyetlen szimbólum látja el, az aranyborítású könyv.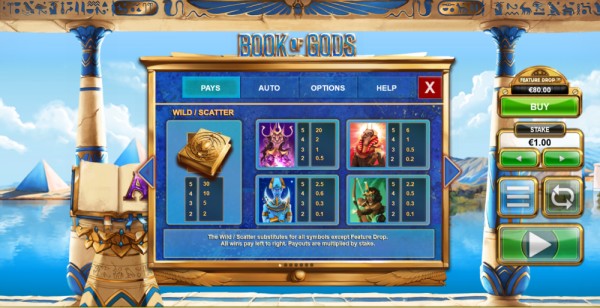 ---
A következő kaszinóknál elérhető a Book of Gods