Game of Gladiators
A Game of Gladiators egy 5 tárcsás nyerőgép, amelyben gladiátorharcokban vehetünk részt. A küzdelmek a tizenkettedik harcos részvételéig tartanak. Minden új harcos csatába lépésekor jutalmakat kapunk, de már a harc megkezdése előtt is van lehetőségünk nyerni összesen 20 nyerési vonalnak köszönhetően.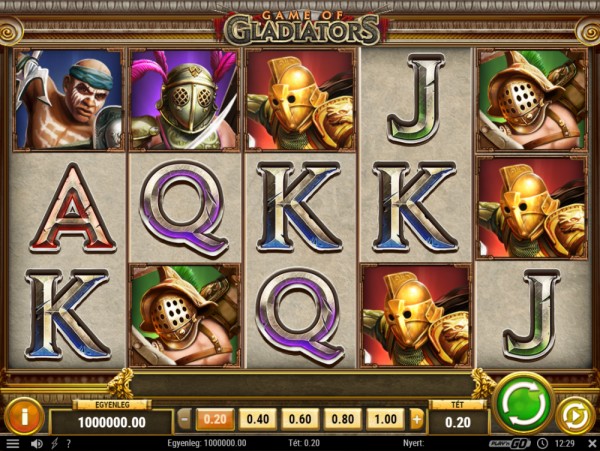 Játékmenet
A tét méretét a középen lent található tétméretező gombok segítségével tudjuk megadni, amelyek értékeit a plusz és mínusz gombok segítségével módosíthatjuk akár százas tétméretig. A környíl segítségével indíthatjuk a játékkört, de lehetőségünk van automata pörgetésre is, ami tarthat egy megadott nyereményösszeg is, vagy egy megadott össznyereményig, esetleg egy megadott összeveszteségig.
Speciális szimbólumok
A wild szimbólum a tigris, amelyet felhasználhatunk bármely más szimbólum kiváltására, hogy nyerő sorokat alakítsunk ki. Ugyanakkor a harcok során becsapódott dárdák is dzsókerként használthatók fel. Az eldobott hálók pedig zárolnak egyes mezőket. A scatter az egyes, hármas és ötös tárcsán jelenik meg, és ez aktiválja a csata funkciót.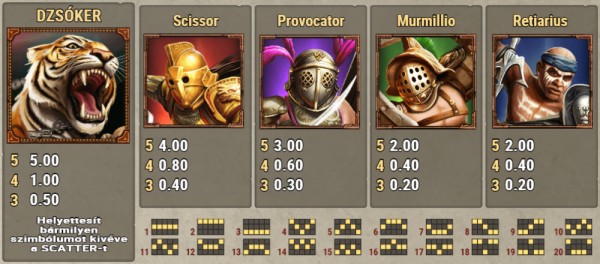 ---
A következő kaszinóknál elérhető a Game of Gladiators