Motorhead
A legendás zenekar előtt tiszteleg a Motorhead nevű nyerőgép, melyben 5 forgó tárcsa van, 76 rögzített sorral. A tárcsák nem átlagosak, hiszen a megjelenített szimbólumok száma balról jobbra haladva növekszik. A játék célja azonban a szokásos, tehát azonos szimbólumokat kell kiforgatni, a nyerősorok valamelyikére.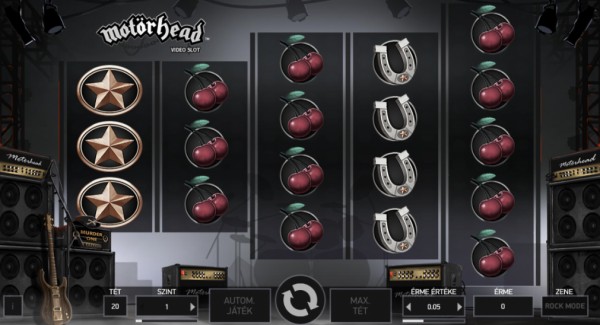 Játék menete
Rögzített nyerősorok vannak, ezek száma nem módosítható. Be kell állítani viszont a tét szintjét, és az érme értékét. Összesen 10 szint érhető el a téteknél, minden egyes szinten 20 érmével gyarapszik az összeg. Az érme értéke 1 centtől növelhető egészen 1 dollárig. Ez a két tényező adja meg végül az egy forgatás során feltett teljes tétet. Ha például 2-es szinten 50 centes érmével játszunk, akkor tét 20 dollár lesz.
Legendás zenekar
A rock and roll zenekarnak szentelt játékban felcsendülnek a legendás zenéik, illetve az információs részen lenyűgöző karrierjükről is sok mindent megtudhatunk. Mindezek mellett leírják a speciális karakterek tulajdonságait is, melyek a megszokottak. A Scatter ingyenes pörgetéseket ad, míg a Wild minden más helyettesítő joker.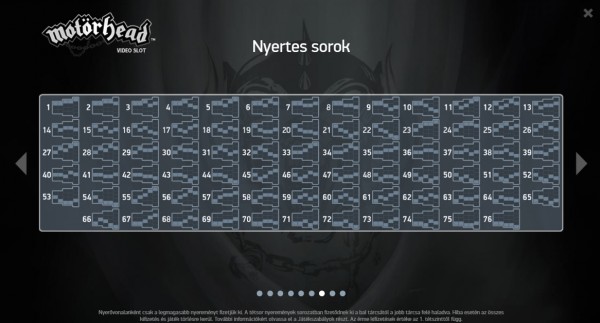 ---
A következő kaszinóknál elérhető a Motorhead