The Wizard of Oz
Dorothy és barátai is megjelennek a klasszikus mese feldolgozásában. Megszokott nyerőgépről van szó, melyben a nyerővonalak számát, és a tétet is meg kell határozni. Azonos szimbólumok kipörgetése mellett, extra funkciókkal is lehetséges kifizetést elérni!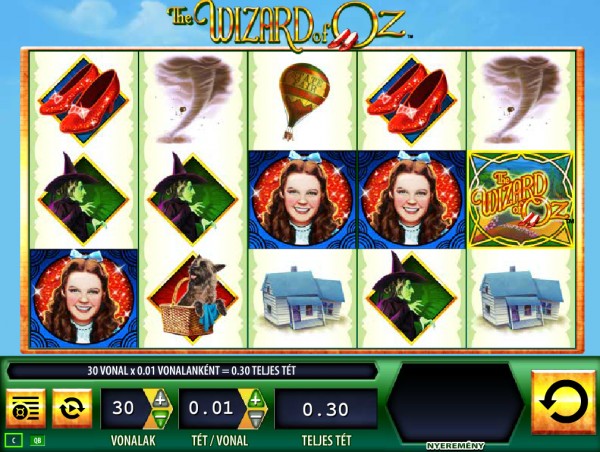 Játék menete
Módosítható a nyerővonalak száma és a tét is. Előbbit egyesével lehet növelni, vagy épp csökkenteni. Mind a 30 vonal megtekinthető az Infóban. A vonaltét arra vonatkozik, hogy az egyes sorokra mennyi pénzt rakunk fel. Ha például 10 centet állítunk be, 30 vonal mellett, akkor a teljes összeg, amit egy forgatás során felteszünk, 3 dollár lesz. A játék indítása a környíllal történik.
Speciális szimbólumok
A játék célja, hogy azonos szimbólumokat pörgessünk ki a nyerővonalakra, a baloldali tárcsától kezdődően. Vannak speciálisak, melyek extra funkcióval rendelkeznek. A wild minden mást helyettesít, a feature pedig különböző funkciókat képes aktiválni, mint például a Glinda Good Witch, az Oz, vagy épp a Winged Monkey funkció.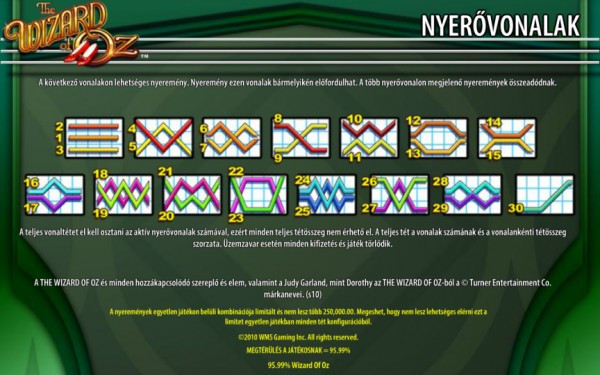 ---