Legend of the Golden Monkey
Varázslatos mesevilágot mutat be szimbólumaival a Legend of the Golden Monkey, amelyben három vagy több azonos szimbólummal lehet nyerni, melyeknek balról-jobbra kell haladniuk. Az alap szimbólumokon felül vannak speciálisak is, melyek egyedi funkciókkal növelik az izgalmakat és nyeremény nagyságát!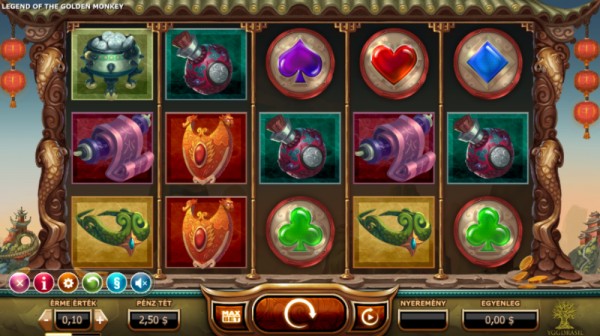 Játék menete
A teljes játék magyar nyelvű, így a felület és az információs rész is. A tét beállítását az Érme értékének meghatározásával tehetjük meg, a plusz és mínusz segítségével. Emellett látható egy kis ablak, Pénz tét felirattal, ami a teljes tétet mutatja, amit egy pörgetés során kockáztatunk. A játék indítása a középső környíllal történik.
Max tét és automata
A nagy volumenben játszóknak jó hír, hogy van automata játékmód, melynél előre meghatározott számú pörgetés megy le, ami természetesen megszakítható. A középső nagy gomb mellett jobbra van az automata, amivel akár 100 pörgetés is futtatható. Van még egy Bet Max gomb, ami a tétet maximálisra állítja.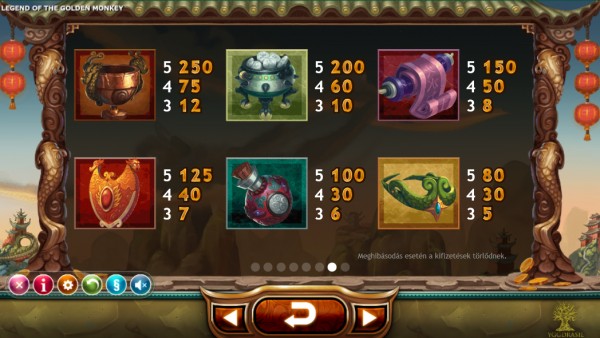 ---
A következő kaszinóknál elérhető a Legend of the Golden Monkey