Swipe and Roll
A Swipe and Roll a klasszikus nyerőgépeket idézi meg egy hangulatos retro étteremmel a háttérben. Gyümölcs szimbólumok tűnnek fel a tárcsákon, amikből öt van a játékban. A játék célja, hogy a 20 nyerősorra azonos szimbólumokat forgassunk, ha ez megvan, akkor a kifizetési táblázat szerint alakul a nyereményünk.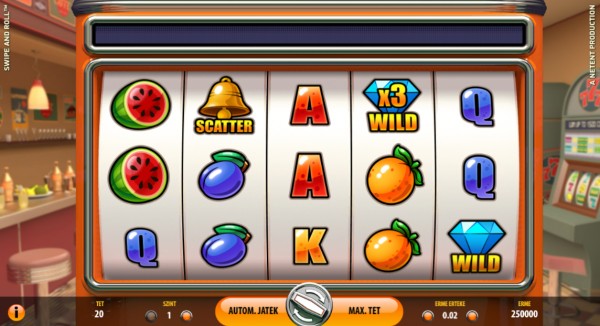 Játék menete
Magyar nyelvű a játékgép felülete, így minden teljesen egyértelmű az idegen nyelveket nem ismerők számára is. A tét beállítása két részletből történhet: a szint meghatározásával és az érme értékének kiválasztásával. Összesen 10 tétszint érhető el, míg az érme értéke akár egy cent is lehet. A játék a középen található gombbal indítható el.
Wild szimbólum
A wild szimbólum bármely tárcsán megjelenhet a fő játék során és az ingyenes pörgetések alatt is. Van egy másik wild is, ez a 3x wild feliratú, ami viszont csak a kettes, hármas és négyes tárcsán tűnhet fel. Mindkét wild tulajdonsága, hogy bármely más szimbólumot helyettesít, kivéve a szintén speciális szimbólumot, a scattert.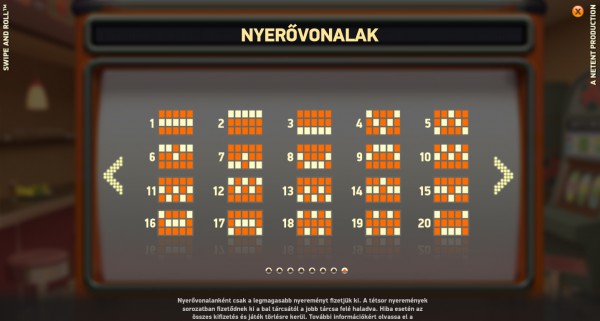 ---
A következő kaszinóknál elérhető a Swipe and Roll