Secrets of Atlantis
A Secrets of Atlantis egy 40 nyerővonalas játék, több extra szimbólummal, mint például a Colossal, Re-Spins, vagy épp a Nudge Wilds jelekkel. A játék felülete és az információs rész is teljesen magyar nyelvű, tehát ha valamit nem értünk, könnyen találunk rá magyarázatot.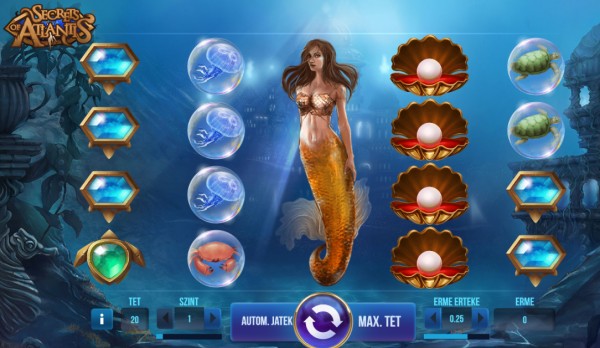 Játék menete
A nyerővonalak száma fix, tehát minden körben 40 vonallal játszunk. 10 tétszint érhető el, minden egyes szinten 20 érmével játszunk. Ez utóbbi nem változtatható, viszont az érme értéke igen, egy centtől egészen egy dollárig. Ha például 3-as szintet állítunk be, 1 dolláros érme érték mellett, akkor a teljes tét 60 dollár lesz. A játék megkezdése a középen található környíllal történik.
Automata játék és Max tét
Az átlagos online nyerőgépekhez hasonlóan a Secrets of Atlantis is lehetőséget biztosít az Automata játékra, melynél a mi aktív részvételünk nélkül fut le az előre megadott számú pörgetés. Nem csak a pörgetések száma állítható be, hanem az is, hogy milyen esetben álljon le az automata mód (például nyeremény esetén). A Max tét a legnagyobbra állítja a tétszintet, és rögtön elindítja a tárcsákat.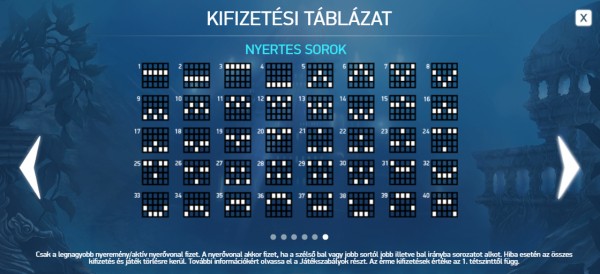 Ingyen játék
Próbáld ki a játékot ingyen, regisztráció, illetve befizetés nélkül. Amennyiben tetszik a játék, akkor kipróbálhatod valós tétért is a cikk végén található kaszinóteremnél/kaszinótermek egyikénél.
---
A következő kaszinóknál elérhető a Secrets of Atlantis