Újra pörög a Nyereménykerék a Betfairnél!
Játssz az Élő Blackjack asztalokon a Betfairnél, hogy tétednek akár tízszeresét nyerhesd kaszinó bónuszok és ingyenes sportfogadások formájában.
A bónuszkártyát jogosítanak fel a Nyereménykerék jutalmaira, és ezek véletlenszerűen vannak elhelyezve a kártyatartókban.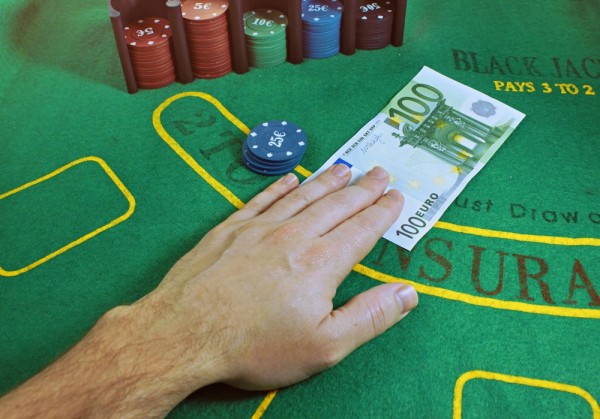 Hogyan műkődik?
Regisztrálj a Betfair Kaszinóba

!

Játssz bármely Élő Blackjack asztalon április 12. és 15.

 (

18:00-02:00 BST)

között. Nem szükséges a feliratkozás.

Ha bónuszkártyát osztanak neked a színétől függően szerzed nyereményed.
A zöld bónuszkártyával ingyenes sportfogadásokat, a sárga bónuszkártyával kaszinó bónuszokat nyersz.
A kaszinó bónuszokat automatikusan, az ingyenes sportfogadásokat 48 órán belül írják jóvá számládon.
18+ Részvételi feltételek érvényesek. | Játssz felelősséggel! BeGambleAware.org
Részvételi feltételek (angolul)
1. Who can take part?
This promotion is available to all Betfair customers.
2. How and when can I qualify?
Play on any 'Casino Live' branded Blackjack table from 12.04.18 to 15.04.18, between 18:00-02:00 BST (ending 02:00 15/4/18). No opt in is required.
3. What can I win?
A Casino Bonus or free Sports bet worth up to ten times (x10) the amount of your bet, capped according to Blackjack table minimum.
How to win on Blackjack:
Prizes are credited as either Casino Bonuses (with 1 x wagering requirement) or free Sports Bets. If a player is dealt a yellow bonus card then the determined prize is credited as a Casino Bonus (with 1 x wagering requirement). If a player is dealt a green bonus card then the determined prize is credited as a free Sports Bet. Bonus cards are inserted into Blackjack shoes randomly during the promotional period. Players qualify for the 'Prize Wheel' if dealt a bonus card. Should the Dealer be dealt the bonus card, it will be re-inserted into the shoe. Casino Host will spin the prize wheel to determine player's prize value. Prize values are bet multiplier prizes of either 2x, 3x, 5x or 10x the total wager of the hand that the bonus card was dealt to (including all side bets bar Dealers PP). Multiplied wagering amount awarded is capped according to Casino Live Blackjack tables:
| | |
| --- | --- |
| Table Minimum | Capped Amount |
| £/€5 | £/€100 |
| £/€10 | £/€200 |
| £/€25/50 | £/€500 |
Players can participate in a maximum of three 'Prize Wheel' bonus rounds per promotional night.
4. When will I get my prize?
All Casino Bonuses prizes will be credited instantly. All Sports Bet prizes will be credited within 48 hours of being won.
5. What else do I need to know?
This promotion is limited to one account per customer, meaning one per family, household address, IP address, email address, telephone number, payment account number (e.g. debit or credit card, Neteller etc.) and shared computer (e.g. public library or workplace).
If you trigger any other promotional bonus while another is still active, the bonuses will queue in your bonus balance. All your active bonuses will be shown in your Casino balance; however, all wagering on eligible games will count towards the requirements of the first bonus you accepted.
6. Other boring but essential stuff
Bonuses are awarded to enhance your enjoyment of our game, but we reserve the right to govern how bonuses are used before a player can cash them in. As such we deem it necessary to restrict certain types of wagering from contributing to the wagering/turnover requirements.
Any bonus issued is valid for a period of seven days from the date of issue unless otherwise stated in the specific promotion. Any remaining/unused bonus at the end of the stated period will be removed from the player's account.
When receiving a bonus, the player will first play with the money 'bought-in' to, and only then will the player play with the bonus offered by the casino.
The casino reserves the right to withhold any withdrawals and/or confiscate all winnings for irregular play. This includes, but is not limited to, any one or more of the following types of play:
- Placing single bets equal to or more than 30% of the value of the bonus + deposit before the wagering requirements for that bonus have been met.
o Example - You deposit £/€100, accept a £/€100 bonus and place a single bet of £/€60 on any game.
- Moving from a low weighted game (25% or less) to a high weighted game (100%) after large wins for the purpose of clearing wagering requirements.
o Example - You place at least one bet on any game weighted at 25% or less, win 100% more than your stake and move your original stake and winnings to a game weighted at 100% in order to meet wagering requirements.
- Playing 500 or more auto spins on a Slot machine and/or playing a Slot machine consistently for a period longer than two hours while a bonus is active.
o Example - You set any game to run on auto spin for 500 spins while you have an active bonus in your account and/or you play for a period of two hours or more (irrelevant of how many sessions) while you have an active bonus.
- Low risk Roulette bets. ANY bet spread combination on Roulette games covering 25 or more (67%) of the 37 unique number spots on the table.
o Example - You bet on Red and Black, you are covering 36 of the 37 possible outcomes, therefore this bet would not count towards any wagering requirements.
Your Sportsbook Free Bet can only be used on selections with odds of 1/5 (1.2) or greater. To use your Sportsbook bet, add a selection to your betslip that meets the terms and conditions of this offer. Your Sportsbook bet will expire after 7 days of being credited into your account. This means that all bets have to be placed and settled before the expiry date. If you cash out of your bet the wagering will be deducted from your Sportsbook bet wagering progress.
Please note that if your bet is successful you do not get the cash value of the Sportsbook bet back, only the profit. You'll be able to see details and further terms relating to your Sportsbook bet in the 'My Bonuses' section accessed through My Account on the Betfair website.
All our standard terms & conditions apply.
---
Írta: Kaszinó hírek
Megtekintve 182 alkalommal