Tavaszi ajándék vár a PartyCasinoban
Szerezz jogosultságot a PartyCasino Tavaszi Nereménysorsolására és 10.000£-os főnyeremény ütheti markod.
Gyűjts minél több sorsjegyet, az ajánlat nyereményalapja 200.000£.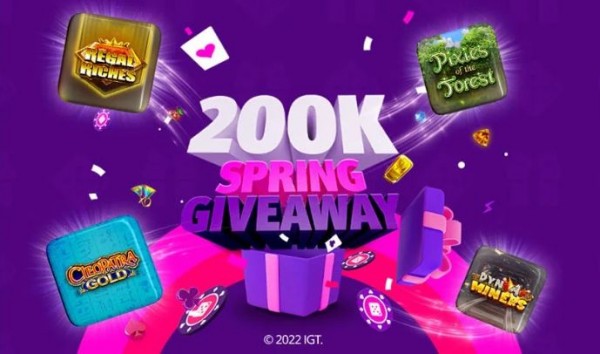 Így működik a PartyCasino ajánlata:
Regisztrálj a PartyCasinoba!
Pörgess 10£ értékben egy jogosult IGT nyerőgépen és egy sorsjegyben részesülsz.
Amennyiben a Cleopatra Grand nyerőgépen forgatsz meg 10£-t, akkor két sorsjegyben részesülsz.
18+ Részvételi feltételek érvényesek. BeGambleAware.org | Játssz felelősséggel! BeGambleAware.org
Felhasználási feltételek
(angolul)
The promoter of this promotion for the UK is LC International Limited, licenced and regulated by the UKGC with licence number 54743, having its registered office at Suite 6, Atlantic Suites, Europort Avenue, Gibraltar.
By taking part in this promotion, you hereby agree to these Specific Promotional Terms and Conditions and to our Standard Promotional Terms and Conditions.
Promotional Period 
This Network Promotion (the "Promotion") will run from 00:01 (CET) 29.03.2023 to 23:59 (CET) 04.04.2023 (the "Promotional Period"). 
Who can claim this promotion 
This promotion is available to customers who: 
be over 18 years old. 
have made a minimum of one (1) deposit in their partycasino.com account;
are able to see the promotion in the 'Offers' section of their partycasino.com account during the Promotional Period; and 
be physically located in the United Kingdom.
(an 'Eligible Player') 
How to participate in this Promotion
To participate in this Promotion, an Eligible Player must opt in only once at the beginning of the Promotional Period. This can be done by clicking on "Take Part" on the promotional page.
Once registered, an Eligible Player must wager a minimum of £10 on selected casino games ("the Games") from 00:01 (CET) on Monday to 23:49 (CET) on Sunday to receive a ticket for the prize draw (a "Ticket"). Any bonus money wagered will not count towards the ticket.
An Eligible Player will receive TWO (2) Tickets to enter for every £10 staked on the following game: Cleopatra Grand.
An Eligible Player will receive one (1) Ticket for every £10 staked on the following games:
Regal Riches
Dyn-A-Miner
Cleopatra
Cash Eruption
Cash Melon
Da Vinci Diamonds 
Icy Wilds 
Pixies of the Forest 
Treasure Box Kingdom 
Elephant King
An Eligible Player can receive a maximum of 500 Tickets during the Promotional Period. The tickets are non-transferable.
An Eligible Player may only receive one (1) prize irrespective of the number of Tickets that they have.
If an Eligible Player wins multiple prizes in the same prize draw, they will receive the first prize that they have won.
The prizes to be won from the Prize Draw are listed in the table below:
| | | |
| --- | --- | --- |
| Range | Number of Prizes  | Prize (Cash)  |
| 1-1  | 1  | £10,000  |
| 2-2  | 1  | £5,000  |
| 3-3  | 1  | £2,500  |
| 4-4  | 1  | £1,000  |
| 5-104  | 100  | £100  |
| 105-334  | 230 | £50  |
| 335-4334  | 4,000 | £20  |
| 4335-12334  | 8,000 | £10  |

Every Ticket and every prize will have a randomly assigned number. When the draw is completed, every player will be awarded the prize that corresponds to their randomly assigned number. A ticket may only win one prize.
The Prize Draw will take place on 06.04.2023.
This Network Promotion is operated by IGT. As such, the prize pool is shared across the Network of Operators who opt in to this Network Promotion.
This offer is not available in conjunction with any other offer.
Prizes Specific Conditions
Cash Prizes Specific Conditions:
Cash prizes will be credited as a Non-Deposit Bonus with no wagering restrictions within 48 hours after the draw has taken place.
The Non-Deposit Bonus will be available to claim in the casino bonus section of the Eligible Player's Website account for 7 days (the "Time Limit"). Failure to claim the Non-Deposit Bonus within the Time Limit will result in the bonus expiring.
Once claimed within the Time Limit, the value of the Non-Deposit Bonus will then transfer to the cash balance of an Eligible Player's Website account.
General:
Where the Promoter suspects that a player is guilty of fraudulent activity, the Promoter reserves the right to suspend or remove that player from the Promotion, and/or suspend that player's account and/or suspend the Promotion pending further investigation.
The Promoter reserves the right to alter, discontinue or terminate the promotion if required for Legal and regulatory reasons, including where necessary to prevent fraud or other unlawful behaviour.
The Promoter reserves the right to withdraw this Promotion from anyone who does not qualify or is excluded from our offers or promotions under the General Website Terms & Conditions.
The Promotor may place restrictions on a player's account to comply with its legal and regulatory obligations. This could include deposit restrictions and restrictions on the bonus offers that a player can participate in. The Promotor will not be responsible should these restrictions, which may include Safer Gambling measures, affect a player's ability to complete the requirements of this promotion and/or to release any bonus, benefits, or prizes.
In the event of any error or system failure, or any error in the crediting of funds, winnings, or bonuses to an Eligible Player's Website account in connection with this Promotion, the Promoter reserves the right to correct the error and withhold funds or winnings resulting from a such error in accordance with its General Terms and Conditions.
---
Írta: Kaszinó hírek
Megtekintve 105 alkalommal