Bónuszok harca a William Hillnél!
Válassz 25 ingyenes pörgetés vagy 25 arany zseton közül és élvezd bónuszod a kiválasztott játékokon.
Csak egyiket választhatód, ezért gondold meg jól döntésed.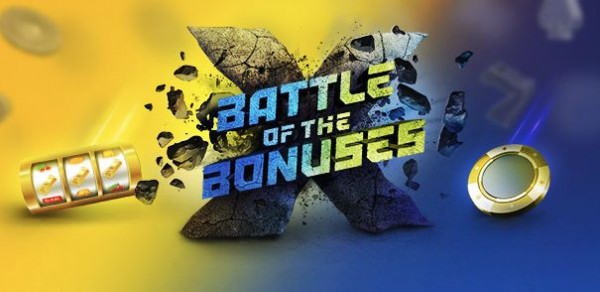 Hogyan működik?
Regisztrálj a William Hill Kaszinónál!
Íratkozz fel a két bónusz promóciós oldalának egyikére.
Csak a kiválasztott bónusz marad érvényes a promóciók lejáratáig (Október 31).
Válassz bónuszt most és játssz!

18+ Részvételi feltételek érvényesek. | Játssz felelősséggel! BeGambleAware.org
Általános részvételi feltételek (angolul)
A teljes részvételi feltételek megtekintésének érdekében keresd fel külön-külön a promóció két oldalát a William Hill Kaszinónál.
Promotional Terms
This "Battle of the Bonuses – Up to 25 Bonus Spins or Golden Chips" promotion (the "Promotion") is promoted, operated and hosted at williamhillcasino.com (the "Website") by WHG (International) Limited ("William Hill", "we", "us", "our") a limited company registered in Gibraltar.
The Promotion will run from 14:00:01 (GMT) on 4th October 2018 until 23:59:59 (GMT) on 31st October 2018 (the "Promotion Period").
Please refer to the "Definitions" section below for the meanings given to these terms and conditions ( "Promotion Terms").
How does the Promotion work?
When a player arrives at the William Hill Casino Club "Battle of the Bonuses" pre-decision, generic Promotion page they will be presented with details for each of the two Promotions offered: "Up to 25 Bonus Spins" and "Up to 25 Golden Chips".
From there, to make their Promotion decision, the player will need to navigate to the Promotions page, open the individual Promotion page and click "Opt in" to claim the first Bonus.
Once a Promotion decision is made by the player, when the "Opt in" button is actioned on one of the two individual Promotion Pages, that decision is final and irreversible. Only the Promotion chosen by each player will continue to appear on the Promotions page until the end of the Promotion Period.
This pre-decision, generic Promotion page will have a promotional banner on the William Hill Casino Club Website Home page until the end of the Promotion Period. However this page is only a generic description of how the Battle of the Bonuses Promotion works, and seeing the generic banner does not mean that a Promotion decision, once made by clicking "Opt in", can be changed.
How do you take part in the Promotion?
To take part in this Promotion, you must:
a) Navigate to the Promotions page on the Website
b) Click on the banner representing the Promotion you'd like to choose. Your options are either "Up to 25 Bonus Spins" or "Up to 25 Golden Chips". This will take you through to the individual Promotion page, where you will need to "Opt in" to claim your bonus
c) Click "Opt in" on the individual Promotion page of your choice, to make your Promotion decision and claim your first Bonus, either Bonus Spins or Golden Chips.
Individual promotion terms for any offer you have chosen apply and will be shown to you before and during your claim.
For customers wagering using funds other than EURO (€) (e.g. US$, CA$ or £), where reference is made in these Promotion Terms to an amount in EURO (€), the equivalent amount in the currency you are using shall apply. 1 EURO = 1 AUD = 1 CAD = 1 GBP = 1 USD = 10 DKK = 10 SEK = 10 NOK = 100 JPY.
Please note that country restrictions may also apply, this will be specified in the individual Promotion Terms for each Bonus.
You may not participate in the Promotion (and you will not be entitled to receive a Bonus) if you have previously been excluded by William Hill from participating in promotions or any gaming or wagering on the Website.
This Promotion is only available once per customer, per day and you may only opt in to receive your chosen Promotion a maximum of 5 times during the Promotion Period.
Promotional Play Restrictions
We offer bonuses and promotions to enhance your enjoyment of our games and wagering. We therefore expect that you will participate in all bonuses and promotions fairly, so that our other customers too may enjoy our services. We have set out below certain types of play which we consider to be unfair and therefore to be in breach of these Promotion Terms:
a) using minimal risk wagering patterns (e.g. low risk wagering, zero risk wagering or equal betting patterns);
b) using multiple accounts to obtain more than the number of bonuses or Bonus bets permitted for each customer;
c) sharing personalised promotional offers or bonuses which are available to specific customers only (i.e. that you have received by e.g. email, inbox message, text message, links, URLs etc.) with others who were not the intended recipient. This includes accessing promotions or bonuses forwarded to you by others when you were not the intended recipient;
d) concealing your country of residence in order to access a promotion or bonus that is not available in your country of residence;
e) colluding with other customers in order to take advantage of promotions or bonuses; or
f) using more than one account per household or per IP address,
together, "Promotional Play Restrictions".
Where you are in breach of any Promotional Play Restrictions, we may be entitled to cancel any bonuses or promotions applied to your Account, reclaim any bonus element of such offers and either settle bets at the correct odds, void any Bonus bets, void any bet funded by a bonus, or remove any subsequent winnings relating to a bonus. We may also be entitled to levy an administration charge up to the value of the bonus, Bonus bet or additional payment to cover our reasonable administrative costs in respect of any such action that we take.
General Promotion Terms
Notwithstanding anything else contained in these Promotion Terms, you may withdraw any funds in your Real Money Balance at any time except where we are required to withhold such funds in order to comply with our legal or regulatory obligations.
Unless otherwise stated in these Promotion Terms, your Bonus (and any Bonus Funds) and your Bonus Spins (and any Bonus Spins Bonus Funds) cannot be combined with any other offers, promotions or bonuses offered by us.
William Hill has the right to refuse or withhold payment of any Bonus Funds in the event of funds you have deposited into your Real Money Balance being cancelled or denied by any payment service.
William Hill reserves the right to amend or cancel this Promotion or amend these Promotion Terms:
a) without notice if the change or cancellation is as a result of any legal or regulatory change; or
b) for any other valid reason by giving you notice in advance of the change (we shall only do this where the circumstances are sufficiently serious, for example, where there is a malfunction of the software or systems we use to provide the Website and/or the Promotion or in the event of manifest error in the Promotion and/or the Promotion Terms), unless the change is in your favour (including, making the Promotion Terms fairer to you or easier to understand), in which case we will not tell you of the change. We may also offer an equivalent prize, bonus or Bonus bet to the one referred to in any Promotion without telling you.
In addition to these Promotion Terms, your use of the Website and your participation in any gaming or wagering (including this Promotion) is governed by our general Terms & Conditions which are available on the Website https://www.williamhillcasino.com/terms ("General Terms"). You should therefore ensure that you have read and understood the General Terms and these Promotion Terms before taking part in this Promotion. In the case of any discrepancy between these Promotion Terms and the General Terms, these Promotion Terms shall take precedence.
These Promotion Terms shall be exclusively governed by and construed in accordance with the laws of England and subject to the non-exclusive jurisdiction of the courts of England and Wales.
Definitions
In these Promotion Terms, the following definitions shall apply:
a) "Account" means your online account with William Hill Casino Club which can be accessed via the Website;
b) "Bonus Balance" means the total sum of all bonuses and bonus funds active on your Account (including any Bonus and any Bonus Funds) which cannot be withdrawn as cash or wagered in non-promotional play because they are subject to ongoing promotional play restrictions (e.g. the Wagering Requirement has not been met);
c) "Bonus Funds" means any winnings from wagers placed using your Bonus which are allocated to your Bonus Balance, in accordance with these Promotion Terms;
d) "Real Money Balance "means the total funds that you have deposited in your account and all the winnings from those deposits, which you can withdraw as cash or wager in non-promotion play at any time; and
e) "Total Balance" means the total sum of funds contained in your Real Money Balance, and your Bonus Balance.
---
Írta: Kaszinó hírek
Megtekintve 134 alkalommal